A guarantor is a third party, such as a parent or close relative. He will be the one to pay your rent if you can not do it. In France, a guarantor is required to rent an apartment.
Finding a guarantor to rent an accommodation when you are a student, can be a challenge.
We are going to introduce you the requirements needed to have a guarantor in France and others options that exist now if you don't have one, for you to find the solution that fits you best.
1. The traditional guarantor in France
The first option is to have a "traditional" guarantor which in the case of renting an apartment in France is a French guarantor. A guarantor allows you to pay your apartment monthly with just one month deposit. In some cases, like with the student residence Estudines, International guarantors are also accepted.
In France, your guarantor needs to meet certain criteria:
Agencies accept a guarantor who earn 4 times one month's rent each month
If your guarantor doesn't earn enough, you can have a second one and they both need to earn at least around €2000/months
If you don't have a guarantor you will have to pay your rents in advance in most cases, sometimes 3 to 6 months' rents in advance, every 6 months and in other cases the whole stay!
However, other solutions exist now to help you rent a student accommodation and find a guarantor.
2. Garantme
GarantMe act as your guarantor during your stay in France. To check if your are eligible and can subscribe to their service, you have to compiled their file online, they analyse it in 24 hours, certify the documents and issue a deposit that will protect the lessor's income, up to 36 000 €, for the duration of the lease and its renewals
Finding an apartment with Garantme is simple because they work with real estate professionals that trust them:
Student residences: 15 networks including 3 market leaders, CROUS, Nexity Studéa and Les Estudines
Real estate agencies: 300 branches and now two large networks Foncia and Orpi
Research platforms: Adele, Immojeune, Location-Student, Loc-Services now use Garantme
Who is your guarantor?
A strong insurance company well-known by landlords : GALIAN . Rents, charges and occupance allowances are guaranteed for the duration of the lease and its renewals up to € 36,000 by GALIAN.
How does it work?
To be eligible, you need to have enough revenues or financial resources to pay your rent or find a sponsor who has enough revenues or financial resources. Resources can be abroad and they can be savings.
You pay 3.5% of your rent for the rental period as the Garantme fee
Ex : for a rent of 500 € and a term lease of 12 months
The annual price is 500 * 12* 3,5%= 210 € (17,5€ per month)
More information available on https://www.garantme.fr/
3. Garantie Visale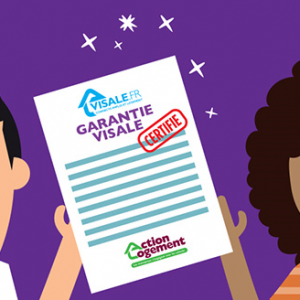 Garantie Visale is a 100% free solution that will open doors for you.
VISALE is a deposit given by Action Logement to the tenant who pays the rent and the rental charges of the principal residence in case of payment default.
To benefit from it, you have to submit a visa application. Then, the renter accept the demand, you have the guarantee that you will not have to pay any other deposit.
It's reassuring for the owner with Visale, the owner is secure to perceive his rental incomes during the length of the rent.
You can access your situation at any time, your personal data and documents are available on your personal account.
How does it work?
You have to be between 18 to 30 years old, no matter your financial situation
The rental price should not exceed 1300€ in France (excluded Paris) and 1500€ for Paris
It should not be covered by other guarantees (personal guarantee or insurance), not concluded between members of the same family and in case of colocation, it should be individualized for each roommate
The lease must be signed after obtaining the Visale guarantee contract (and before the end of the validity of the tenant's visa).
More information available on https://www.visale.fr/